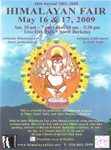 Himalayan Fair projects
All profits from the Fair go to grassroots projects in the Himalayan Region
Tibetan, Nepalese, Indian and Afghan communities work with the Himalayan Fair Committee to offer this annual outdoor celebration of Himalayan cultures. Supporters include the North Shattuck Merchants' Assn., East Bay Express, KPFA Free Speech Radio, The City of Berkeley, Downtown Berkeley Association, and The Monthly
Sights and Sounds of the Himalayan Fair

See photos of performers, vendors and visitors from past fairs:

In 2002, the performers, visitors, vendors, and even the food at the fair was captured on video by Paul Byron. See video from Fair 2002! Every year, the Himalayan Fair features a unique and diverse group of performers.